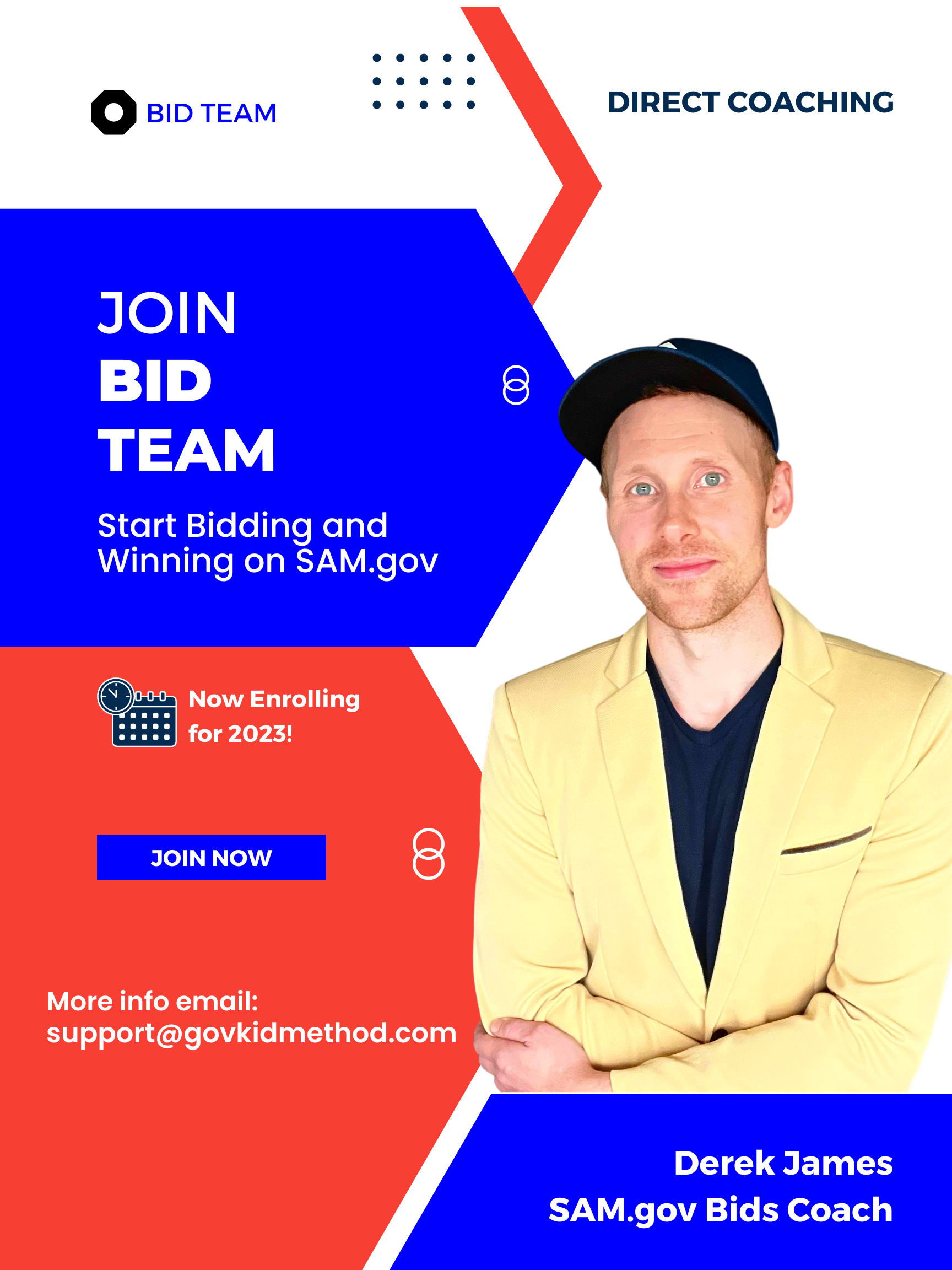 Win Your First Contracts on SAM.gov with Bid Team!
Bid Team is a powerful option for your business if you are looking for ongoing support and resources to start bidding and winning contracts on SAM.gov. 



What Bid Team Can Do for You!
Start Bidding Fast: Respond to Your SAM.gov Solicitation within 30 days of joining!
Bid with Confidence: Derek will review your Solicitations and Proposals with You!
Be ahead of the curve: Start like an expert using Winning Proposal Templates
Surround Yourself with Experience: Claim your spot in a community of other government contract winners!
Win: Realistically win 6-7 figures in contracts during your time in the program and 5X-10X return on your investment!

Does this sound like you?


PROBLEM: Your business is finding bids on SAM.gov that it wants to go after but you're stuck trying to make sense of lengthy government solicitations and trying to put together compliant bid responses. Not knowing how to do this is literally stopping your business from growing and winning contracts.



If this sounds like you...


SOLUTION: Bid Team was created to help you start submitting compliant bid responses from your company in your first 30 days so that your business can start being awarded government contracts in months instead of years. And then, Bid Team supports you for an entire year to build a pipeline to ensure you continue growing and improving with each and every bid.


Bid Team is offered as an investment for your business to save you the next year (and beyond) of trying to figure out bidding on your own and to save the contracts you would miss out on by not bidding.

What Do You Get With Bid Team?

We get it, we are not the only "Program" on the market...



Respectfully though,
there are no other Programs like
Bid Team
. We've done our research and we are offering the highest quality service in the space.
In Bid Team, you are never treated like a number. Your Dedicated Team Member who enrolls you remains with you throughout your entire time in the program. Your dedicated team member can help you locate resources, update your email preferences, change payment methods, and pretty much anything you need short of bringing you lunch. They are just an email away.
And in Bid Team, you actually work with Derek. You will have work to do and you will be submitting your work to Derek through a secure portal and he will be reviewing what you've submitted before the calls to discuss with you.
Lastly, the mission for Bid Team is to get you quickly Bidding and Winning on SAM.gov. Derek is committed to supporting you through your outcome so that your investment in the program returns a 5X-10X in profit on your program investment over 12 months. This program is no fluff, but it will take work and Derek will always meet you halfway.
Nearly all programs in the space right now are centered on information. Bid Team is centered on Transformation.
Here's a closer look at the winning resources waiting for you inside Bid Team:

#1. 12 Months Premium Group Coaching with Derek
Bid Team members gain access to Group Coaching Calls with Derek on Zoom 2x each week for 12 months so you can:

-Securely review your Bids with Derek (A secure portal is used to ensure only Derek sees information that is submitted)

-Have Derek review your proposals prior to submitting

-Discuss strategy or ask other questions with Derek

-Gain invaluable insights from observing Derek's coaching of other members during the group call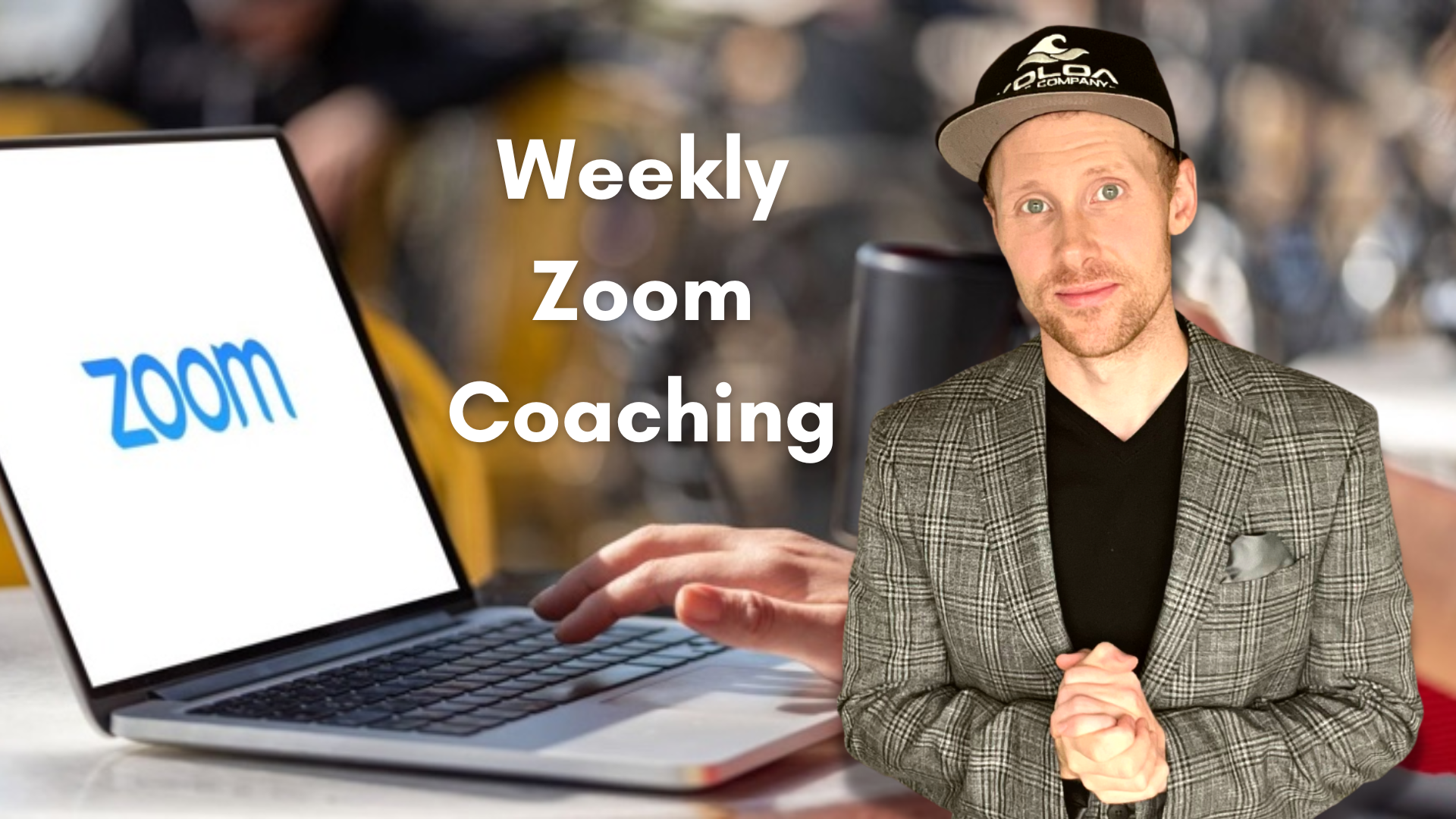 #2. Your Dedicated Team
Your Dedicated Team Member will be with you throughout the lifetime of your time in the program. Your dedicated team member responds back to your questions within 24 hours (or less) and will also be checking in on you to see how you are doing with the work inside the program!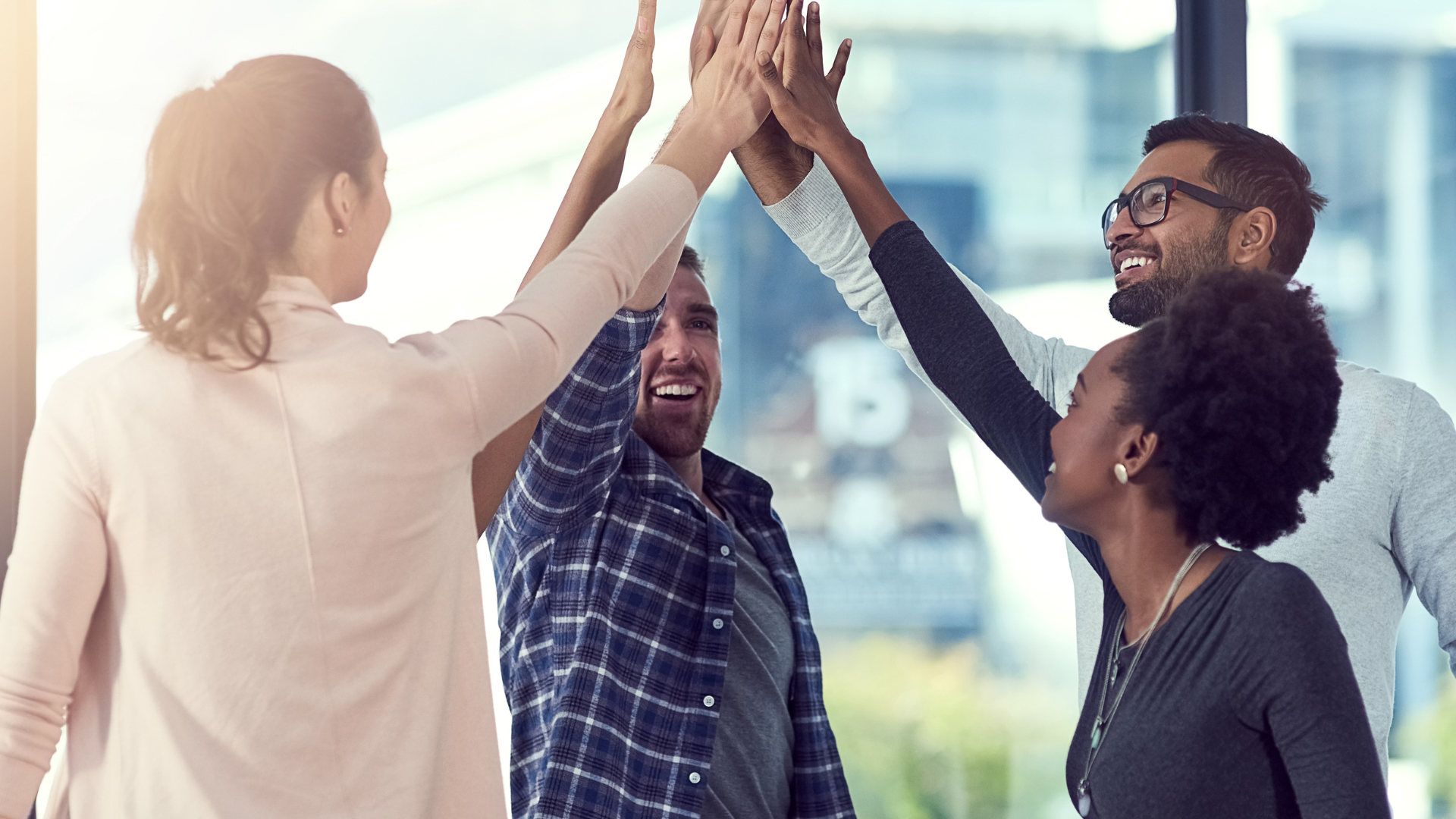 #3. Winning Bid Resources and Templates
Bid Team members gain lifetime access to winning and professionally written templates and proposal documents to assist in responding to the most commonly requested proposal information in order to fast-track your ability to bid compliantly and competitively without having to reinvent the wheel.

#4. Proven Bid Training System
Working smarter and not harder will save you time and the expense of costly lessons. Learning Derek's proven Bid Training System, you will begin taking action immediately to start building a Prospecting System, Qualifying System, Bidding System and Winning System for your business to start bidding and winning as quickly as you can do the work. Follow the actions steps laid out for you and transform your small business into a highly efficient bidding machine on SAM.gov.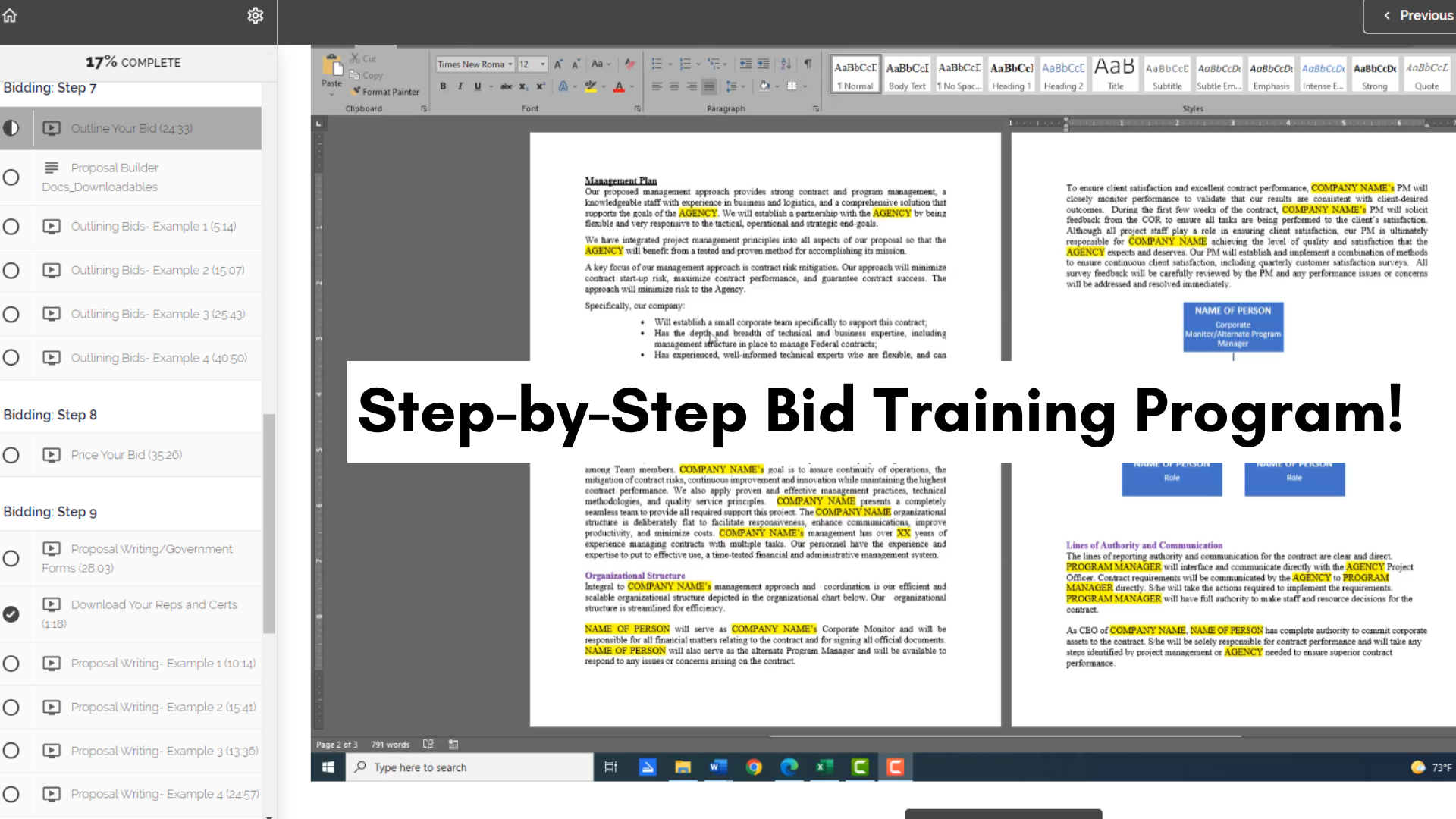 #5. Legal Middleman Method
If your small business is planning to strategically work with subcontractors to fulfill the obligations of the contracts you win, you need to make sure you are doing this legally. The Legal Middleman Method is accompanying coursework that helps you navigate the Federal Acquisitional Regulations, and presents to you the scenarios in which you CAN and CANNOT legally middleman a contract. You are also able strategize this for your business during the Premium Group Coaching Calls.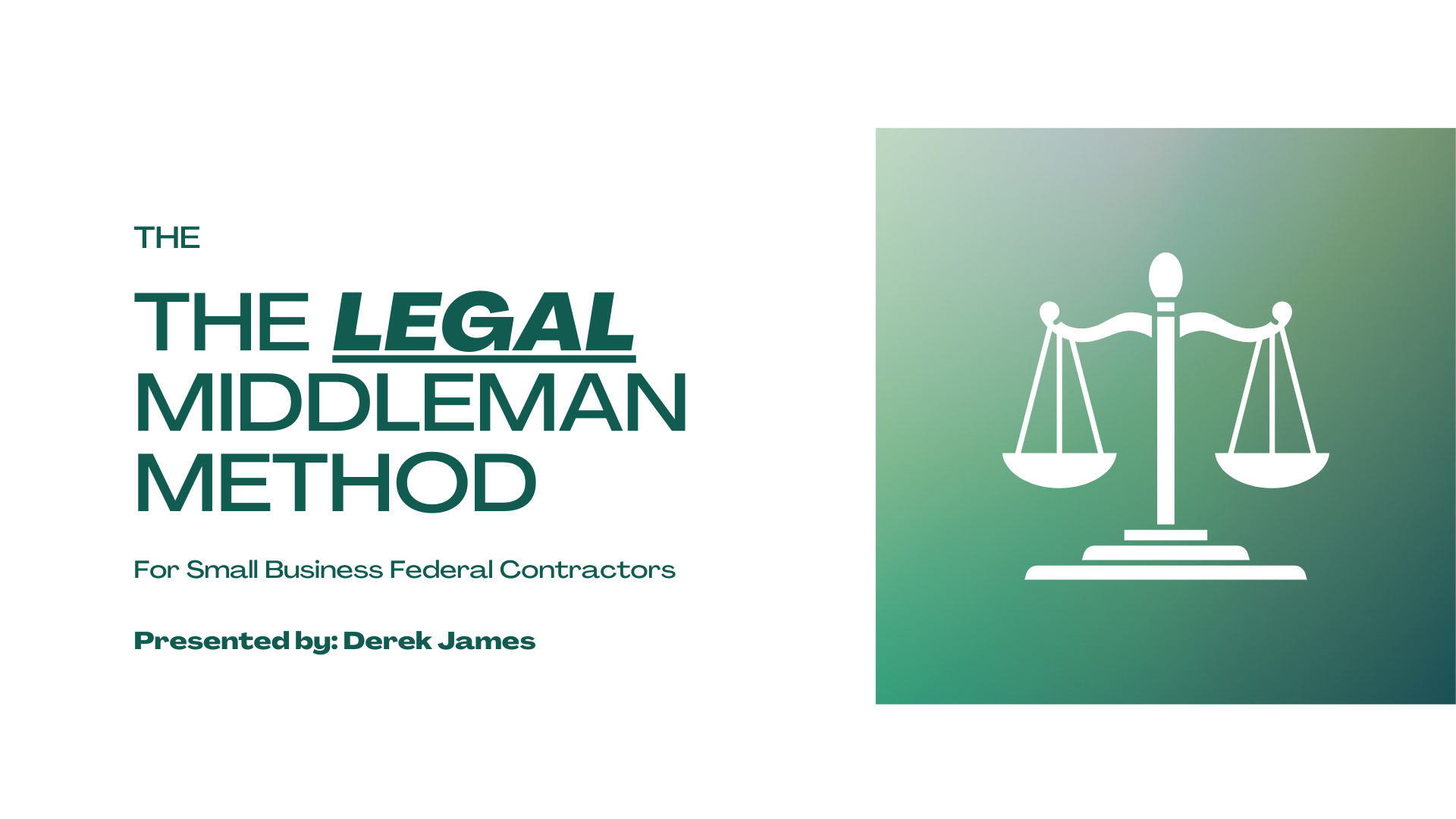 #6. Uplift Your Business with Our Team of Winners
Proximity is power. Bid Team members not only gain access to Derek's coaching, but they also get to surround themselves with winners of varying industries and experience in the Student Community that will help reshape your definition of what's possible for your business in the federal space.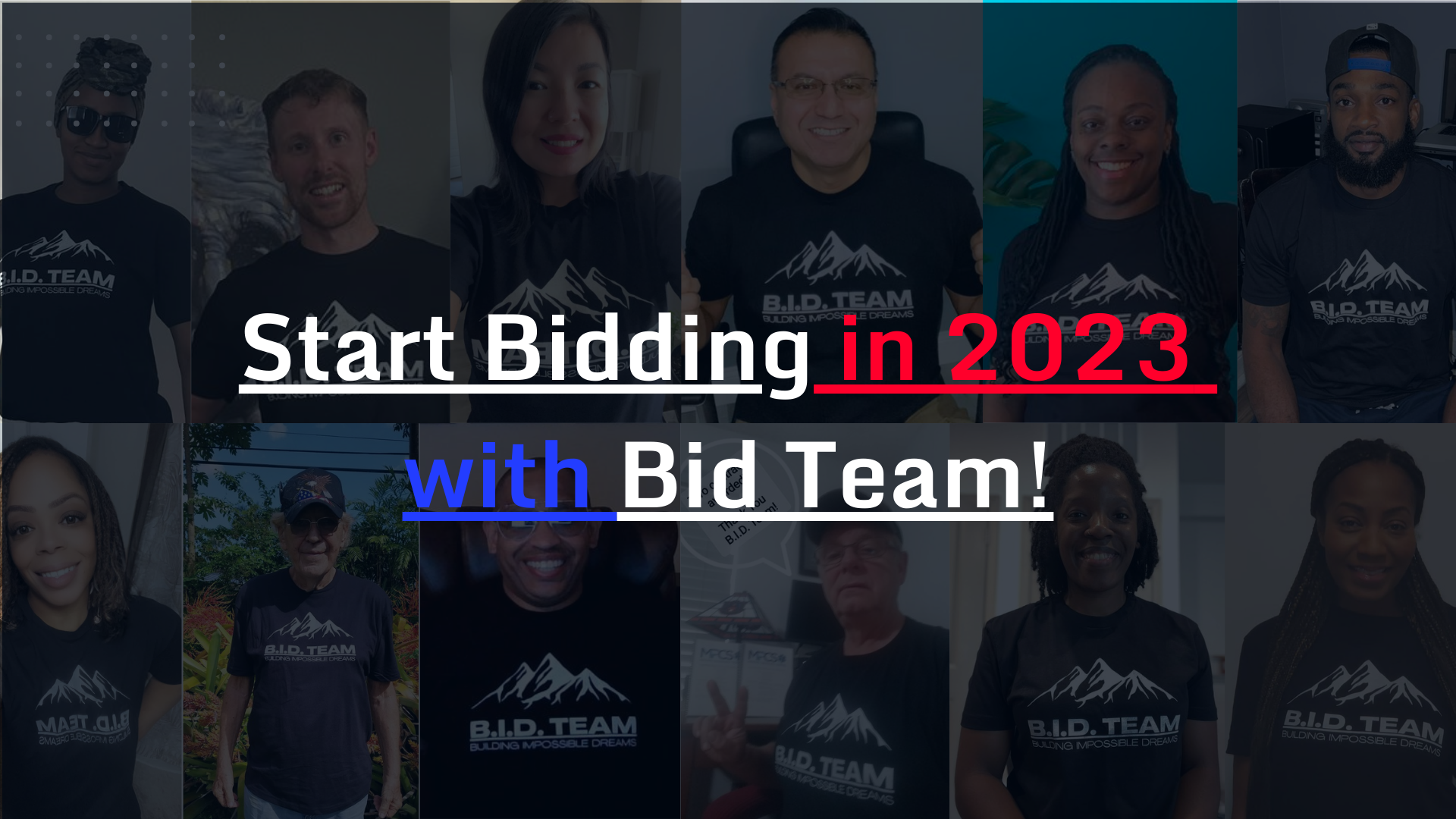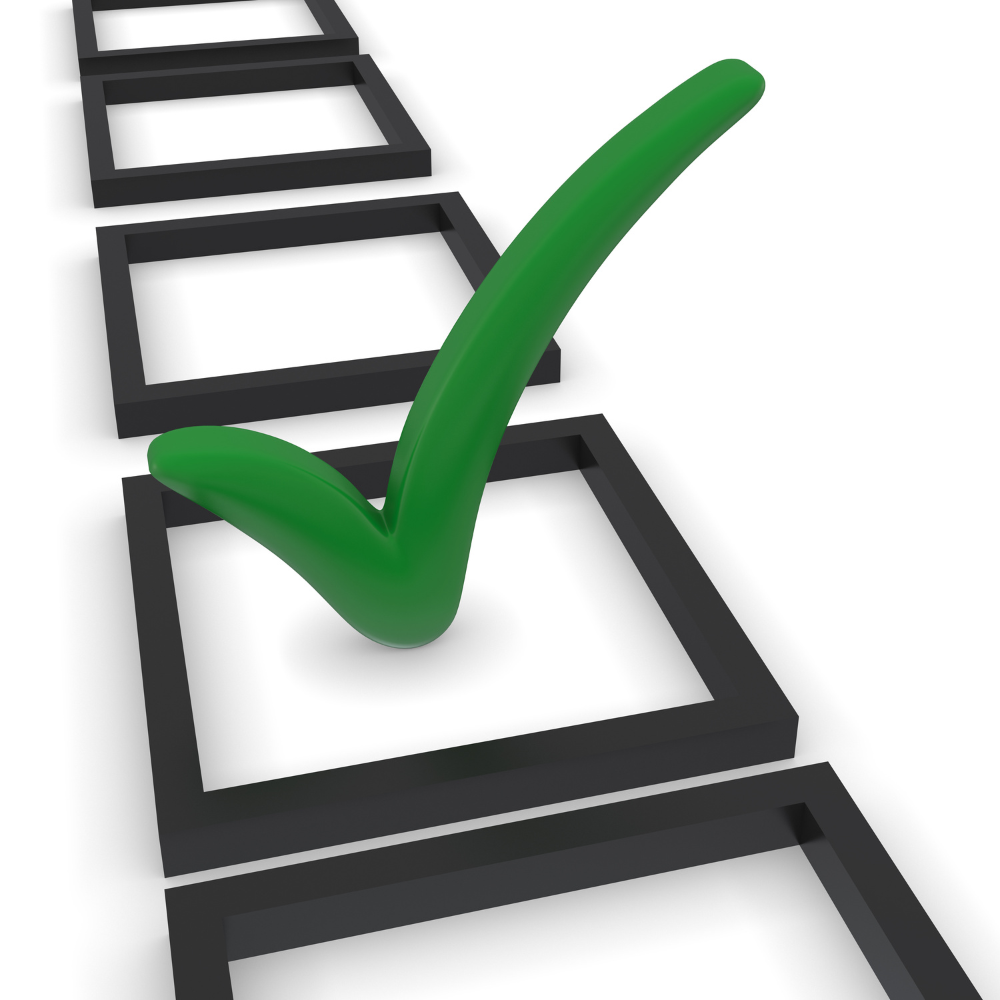 WHO BID TEAM IS FOR


✅ SB's that are properly setup and registered with a CAGE code
✅ SB's that are finding bids that they want to pursue on SAM.gov
✅ SB's that know they need help reading and submitting compliant offers including: Instructions to Offerors (Proposals, Pricing CLINS, Gov Forms, other attachments) and Evaluation Factors (Pricing Strategy, Proposal Evaluations)
✅ SB's that are small teams that value a systematic approach, and are hungry to start winning contracts and want to do the work to build a pipeline for long-term growth for their business
✅ SB's ready to commit 12 months to growing in the Federal Space with Bid Team


✅ Your business is financially stable in order to invest in growth
✅ You are a US citizen, and your business is based in the United States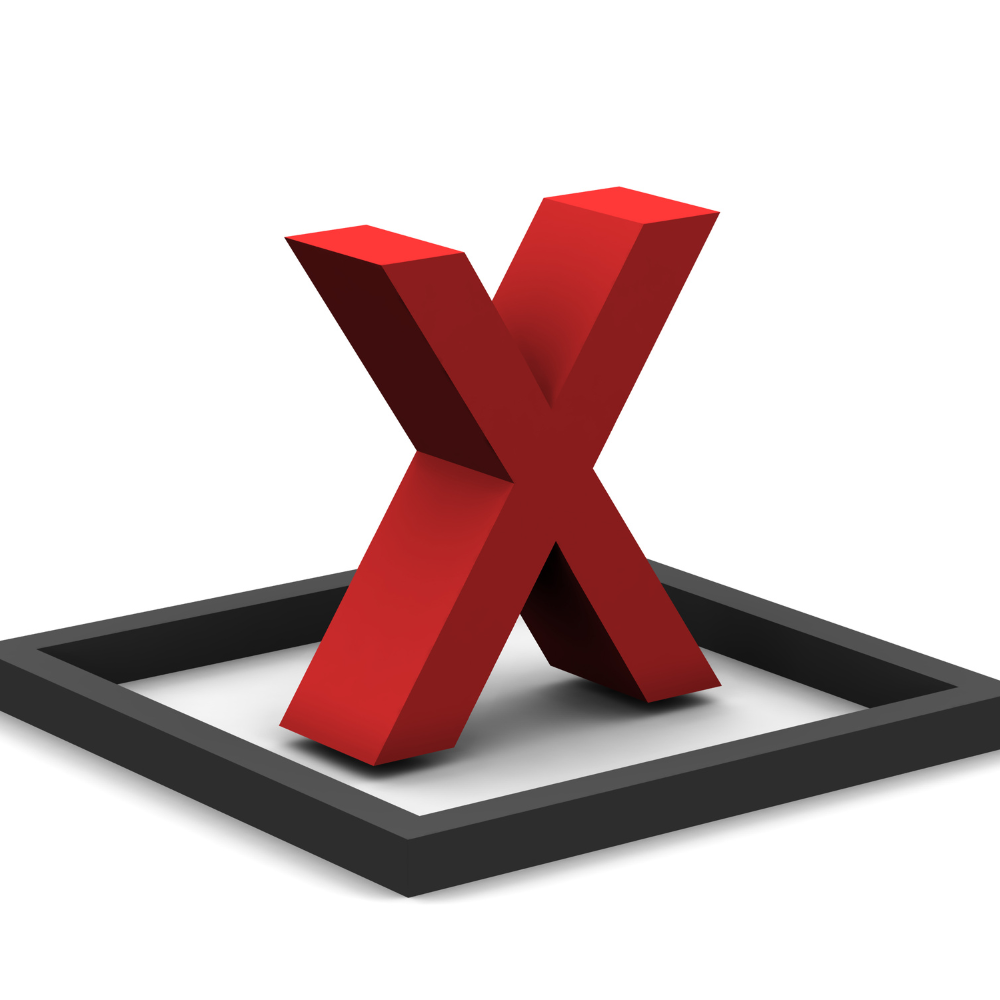 WHO BID TEAM IS NOT FOR


❌ SB's that have not yet received their CAGE code
❌ SB's that do not know what they want to bid on/are not finding bids for their industry
❌ SB's that is not financially stable
❌ SB's that do not value investing in their business to save time and the opportunity cost of lost contracts
❌ SB's that are looking for Derek to tell them how to run and operate their business
❌ SB's that are wanting Derek to tell them how to price their own services/industry
❌ SB's that are not able to commit at least 10-20 hours/week to growing in the federal space
❌ SB's that are distracted by the commercial sector of their business

PARTICIPATION REQUIREMENTS
Please make sure you meet the following requirements prior to joining Bid Team to ensure you can maximize your value from the program:
🗸 Business is registered and has received its CAGE code
🗸 You are clear on the services your company wants to offer the government
🗸 Business is USA-based
🗸 The business is financially stable to be able to invest
🗸 You are needing help with Bidding and Winning on SAM.gov

Join BID TEAM Today/Learn More!
If you meet the minimum requirements to join Bid Team (CAGE CODE, FINDING BIDS FOR YOUR SERVICE AREA, FINANCIALLY STABLE, US-BASED BUSINESS), we invite you to schedule a discovery call with our team!
Use the calendar below to schedule a time to speak with a member of our team to learn how Bid Team can quickly get your business up to speed bidding and winning contracts on SAM.gov.

What is the investment?
There are plenty of "Programs" being offered in the space right now for $2K where the coach is hands off and the program is not focused on any particular result. But does that really help anybody?
We understand you want to know exactly what the price is. Bid Team does cost more than $2K for this obvious reason...You get what you pay for. The exact price is shared during our discovery call together once you submit your application. The program, however, is a 4-figure investment that is reflective of 12 months of coaching with Derek. We do have payment plans available, and we do offer a discount for one-time payments. Again, this will all be shared during your call.
Email

[email protected]

for any questions about joining or apply/schedule a discovery call below.
We look forward to working with you!

Celebrating BID TEAM'S Recent Contract Wins!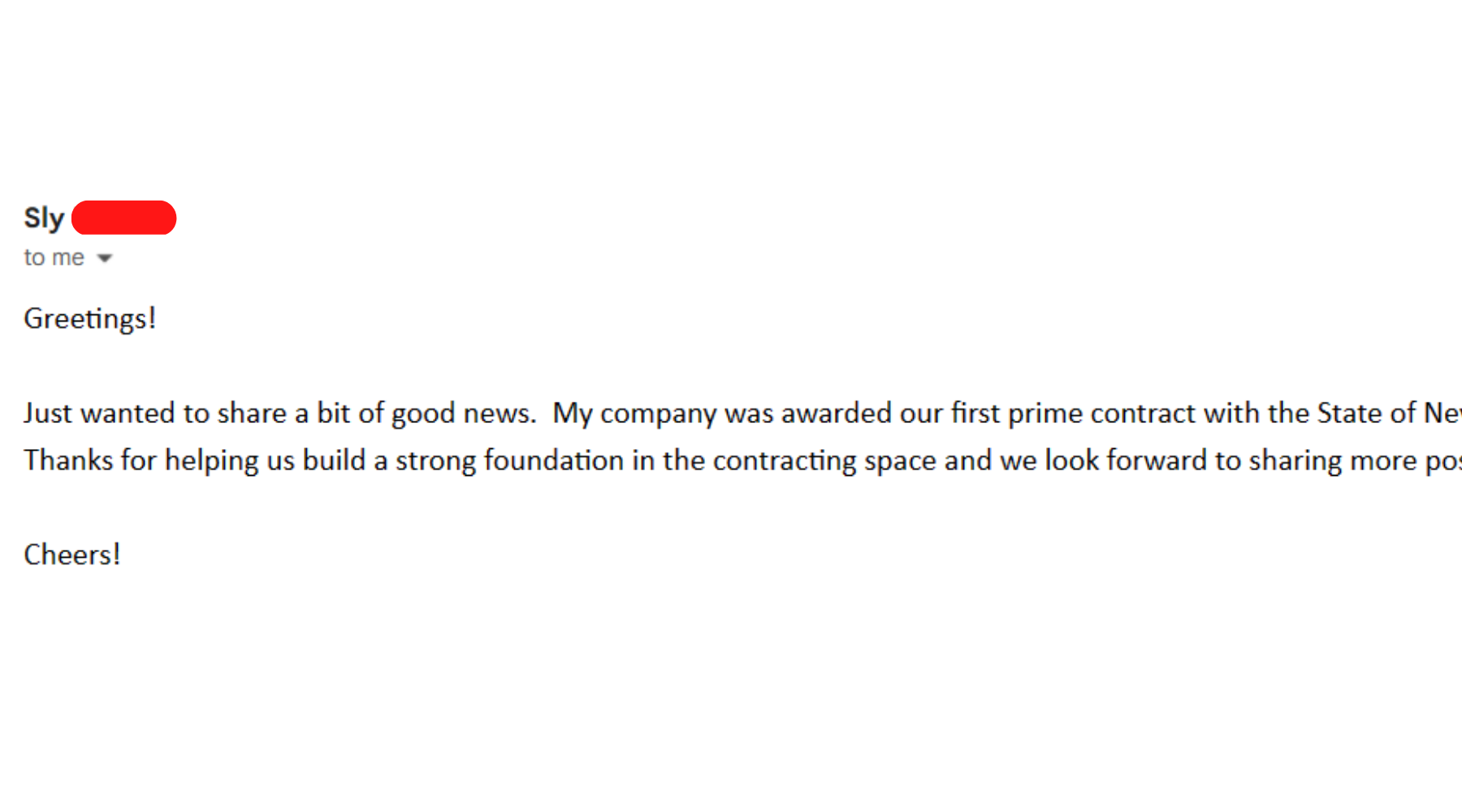 SLY
BID TEAM MEMBER:
Contract Won: February 2023
Joined: January 2023
MIAH
BID TEAM MEMBER
Contract Won:
January 2023
Joined:
January 2022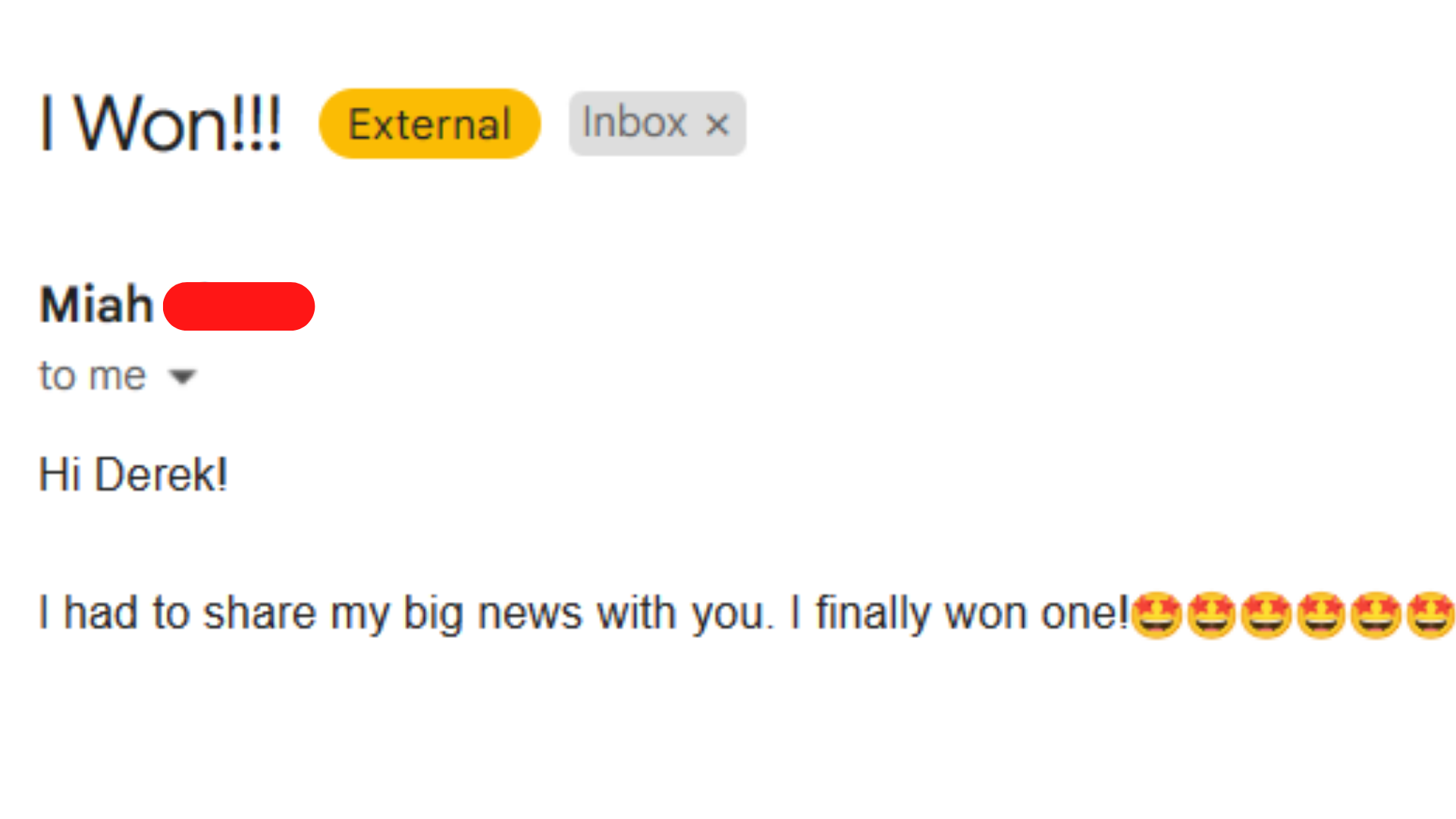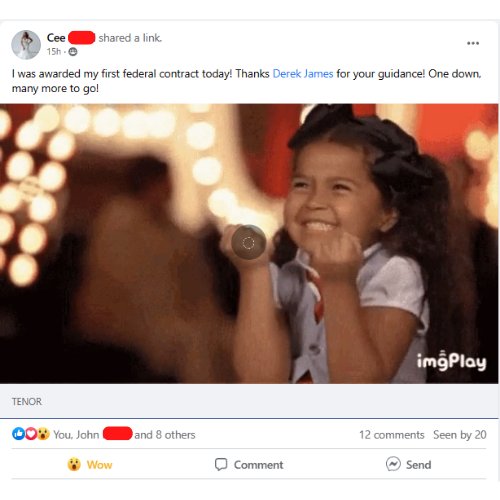 CHANNELLE
BID TEAM MEMBER:
Contract Won: January 2023
Joined: October 2022

ARTHUR
BID TEAM MEMBER
Contract Won:
January, 2023
Joined:
November, 2022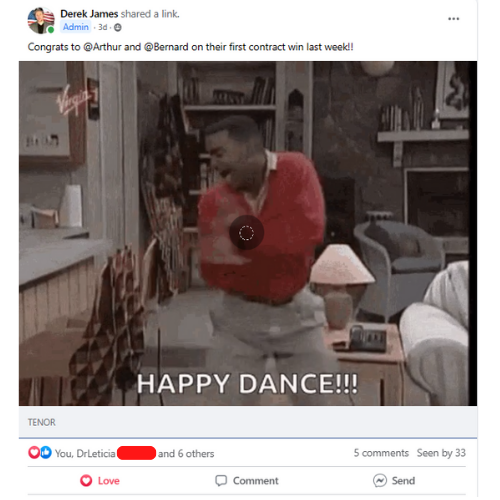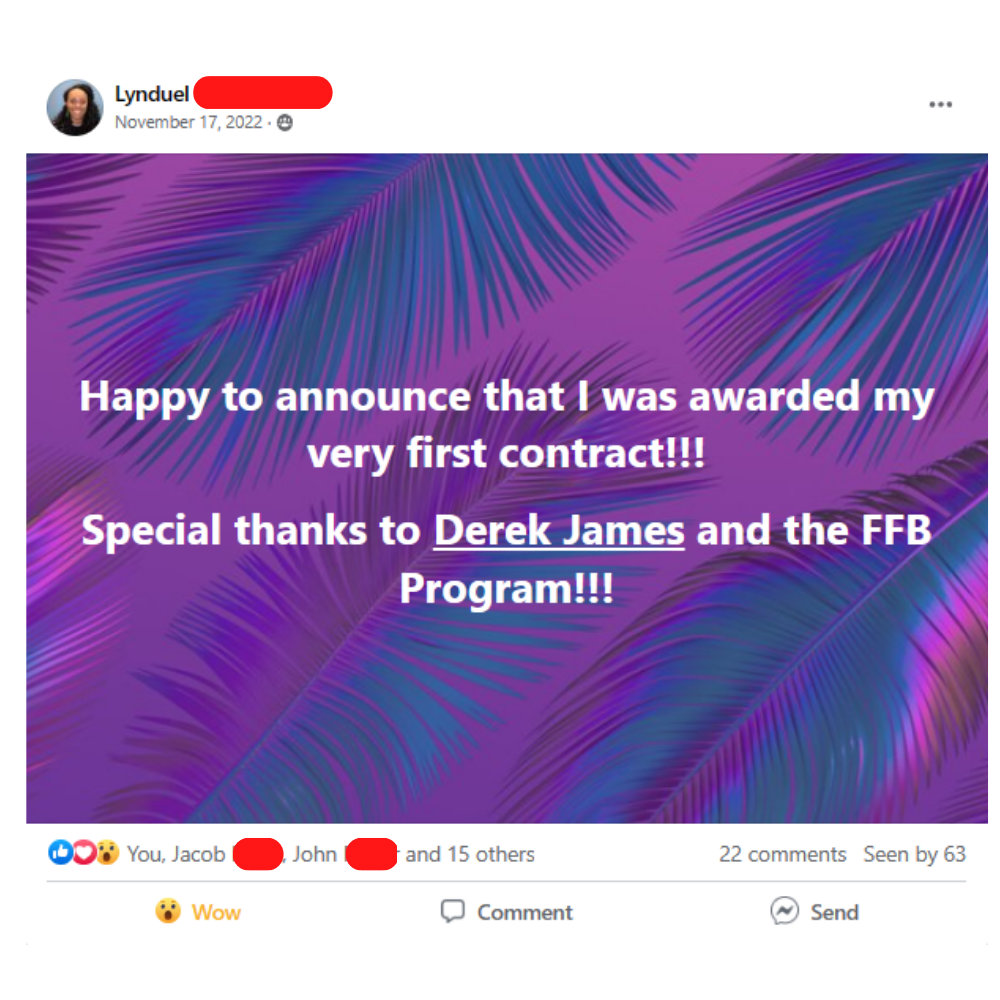 LYNDUEL
BID TEAM MEMBER
Contract Won: Nov. 2022
Joined: December, 2021

ROSS
BID TEAM MEMBER
Contract Won:
June. 2022
Joined:
May, 2022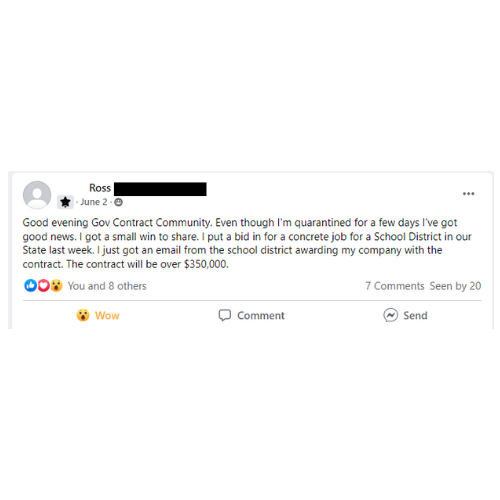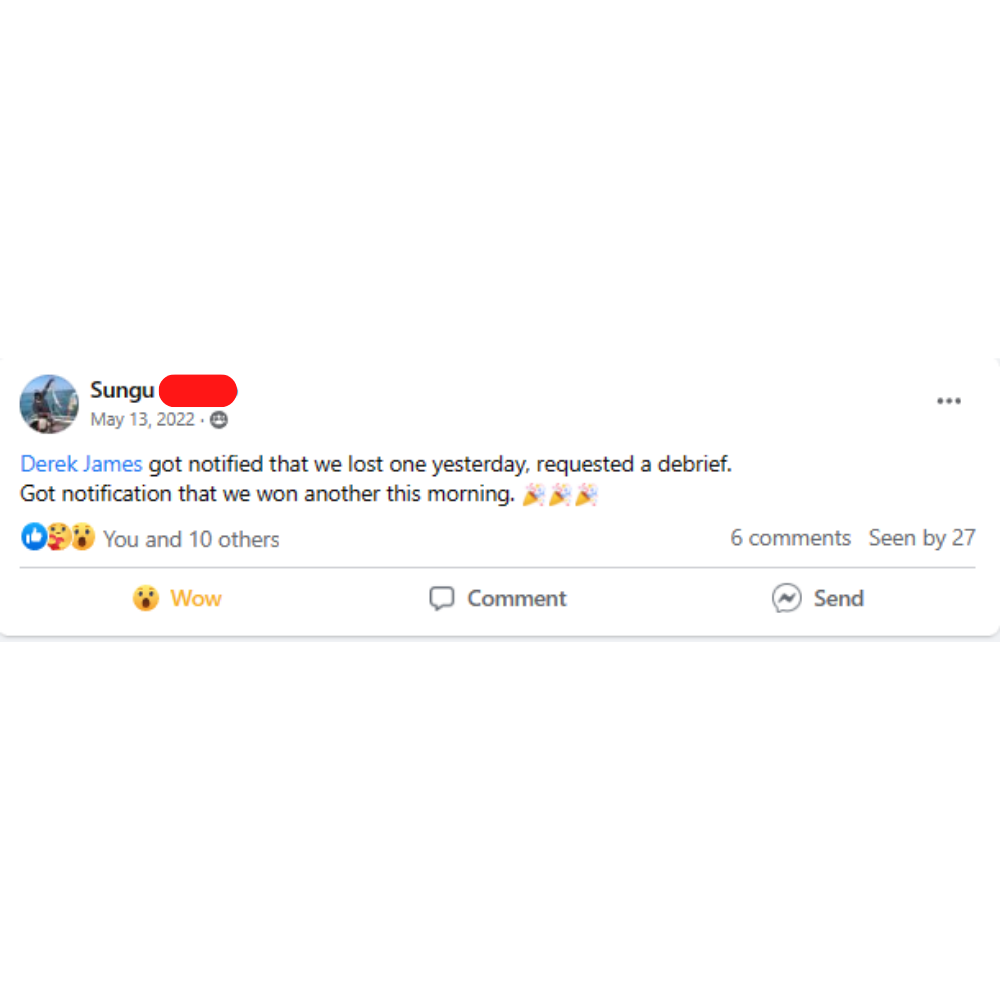 SUNGU
BID TEAM MEMBER
Contract Won: May. 2022
Joined: January, 2022


JOSH
BID TEAM MEMBER
Contract Won:
April. 2022
Joined:
January, 2022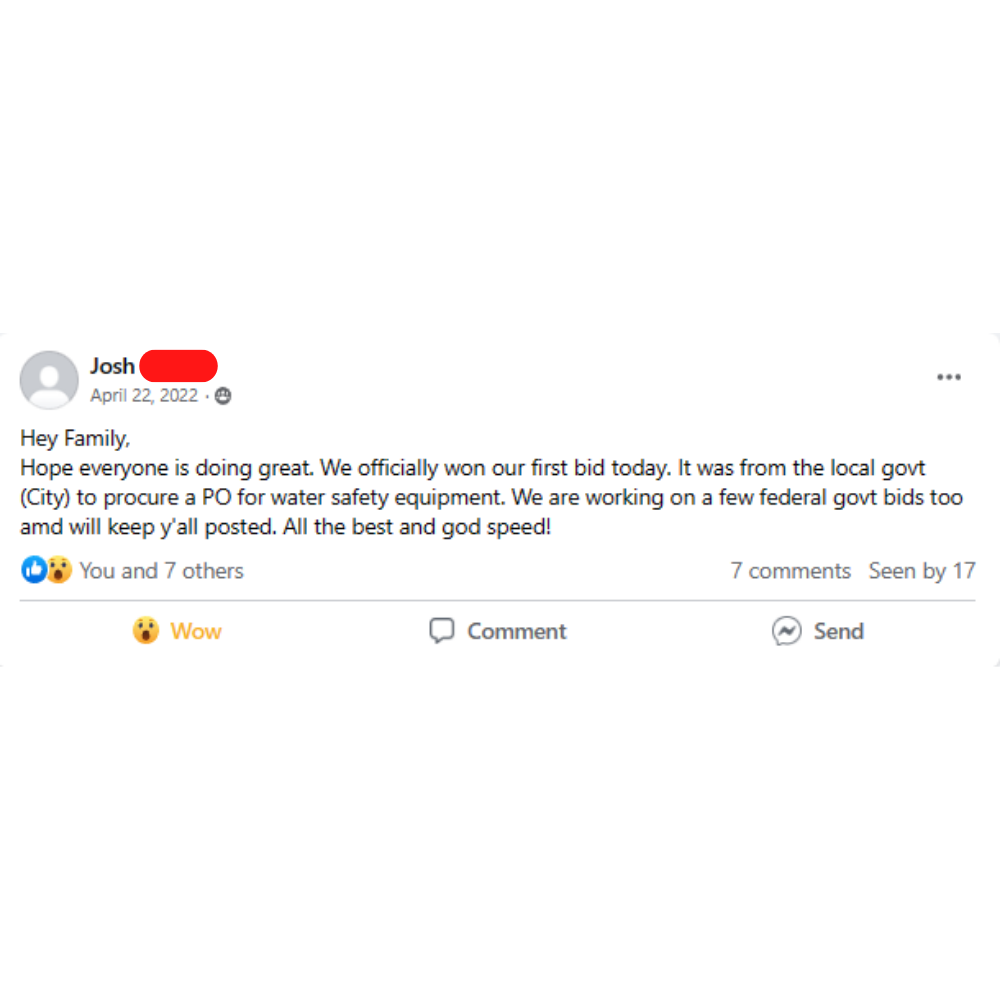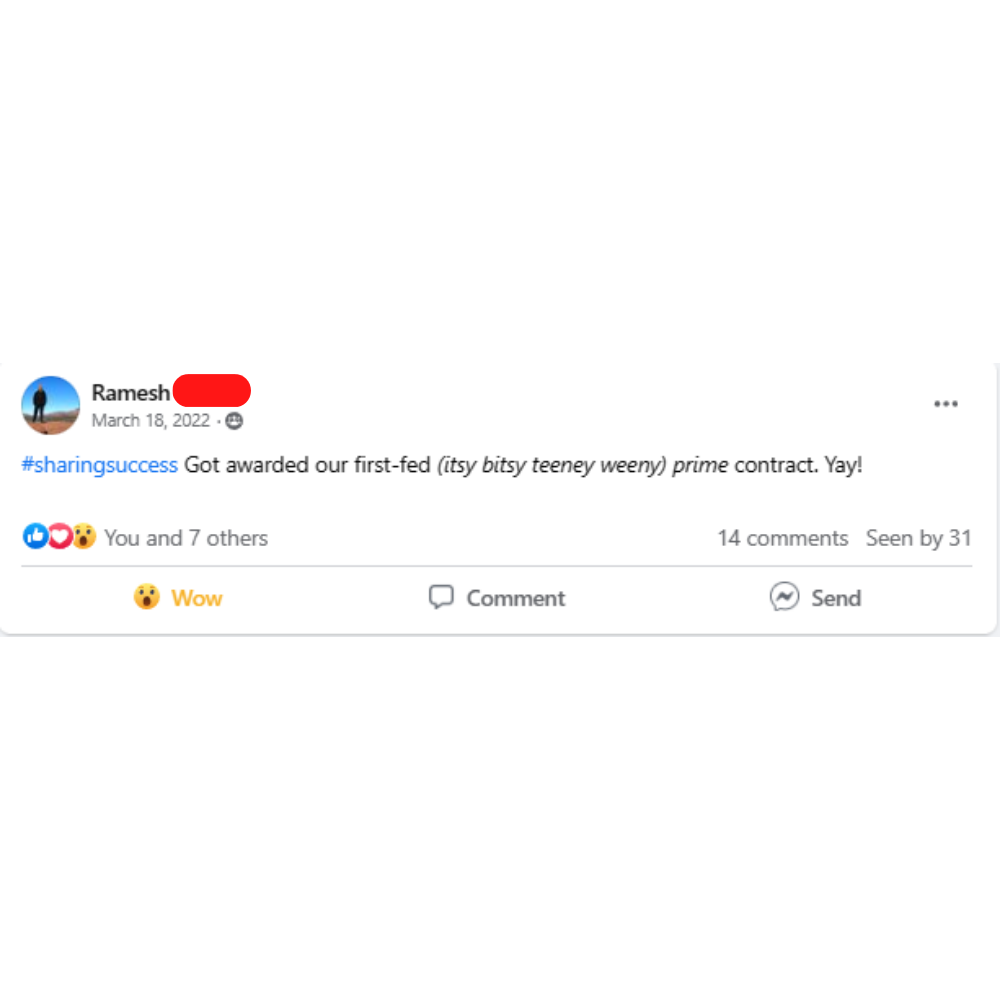 RAMESH
BID TEAM MEMBER
Contract Won:
March. 2022
Joined:
February, 2022